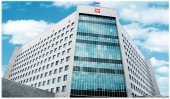 Dispute resolution and commercial litigation are the core practices of RVS LLC activities. Our qualified lawyers have a vast experience of obtaining successful results for our clients, Russian and foreign companies, in courts of general jurisdiction and commercial courts (or so called in Russia "Arbitrage courts") in Moscow and other cities in the Russian Federation. Our team has profound experience in the area of international arbitration.
RVS LLC lawyers have individual and efficient approach to each client, doing their best to recommend the winning strategy. Serving clients' business interests in the court we always try to become a reliable and confident partner for each of them. We combine extensive knowledge of legislation and case law in any judicial proceedings in Russia with the deep understanding of the client's business, risks and needs to achieve the required objectives.
We are proud of having talented and experienced lawyers in our litigation practice in Moscow, who are able to make our clients feel sure that their interests will be duly protected in Russia. In our day-to-day litigation work our lawyers provide expert advice and represent clients in a broad range of areas, such as construction disputes, IP disputes, corporate disputes, lease disputes and many others.
Services: